Collecting
By Ariel Berry
We are a family of collectors. We have diverse interests and collect many kinds of things. Rocks, stamps, small pieces of licorice.
Read More
Announcing the 100 Word Story Anthology!
Each 100 word story is its own kind of special. Now you can read 117 of our favorites published over the past 6 years in "Nothing Short Of: Selected Tales from 100 Word Story."
Read More
Lost Downstream
By Linda Grierson-Irish
Our father was an ancient river god. We, his fish, speared by his glance, gutted 'til our mangled hearts bled, steeped in his ale-soused breath.
Read More
Photo Story: The Doll Inside
By Ryan Dempsey
They'd tried to forget it, tried to leave it in Raleigh, but it made the trip, hiding amongst the other boxes still sealed from the move.
Read More
Immediate Family Only
By Laurie Ann Doyle
The very least he owes me is a body. A thumb, a wrist bone, the big barrel of his chest. But there my father sits: gray soot in a gold cube.
Read More
Photo Story: welcome to the states
By Madison Blair
my first lover smelled of indiana; cigarettes, dust, and cheap leather. the one after him, kentucky (bourbon and broken horses), and the last, a hint of florida (citrus, salt, and spring break,) and a dash of texas (barbeque, heat.)
Read More
Kosher
By J. Bradley
You watch your mother and father kiss one last time before their ashes marry, just like what happened to all the other parents.
Read More
Full-Length Mirror
By Paul Strohm
Claire has been wanting a full-length mirror in our New York apartment. How come, I want to know. You can look at your top half in the bathroom and you see your feet any time in the shoestore.
Read More
Photo Story: Winter Birds
By Kris Faatz
Every winter, thinner ice on the lake, rotting and fragile. Soon the birds will go farther north, chasing the last crystal cold.
Read More
Waiting
By Kathy Steblen
Fourteen days holed up here with peels of wallpaper, like streamers, looping in mock festivity above my head.
Read More
Mica
By Rishee Batra
Everything changed when we started to role play. I dressed up as sunrise, you the wanderer staring east over the ocean.
Read More
Lightning
By Bronwen Griffiths
The lime green coat with piping. She loves the way the coat shines, the contrast of greens, the acid of the lime against the pine-coloured braids.
Read More
Ranch House
By James Z. Schwartz
A garden-variety ranch house on a street full of garden-variety ranch houses. His tidy room's a refuge from dirty dishes, unmade beds, soiled laundry.
Read More
Listening
By Charlie Stephens
Through the peeling wall I can hear you snap your bones one by one. Tiny pings of destruction. In the morning you start with your feet: tiny bones are easier.
Read More
Photo Story: The Cold Bullet
By David Drury
The story goes that when bank robber Wells Duluth was shot dead, the bullet came out the other side encased in ice.
Read More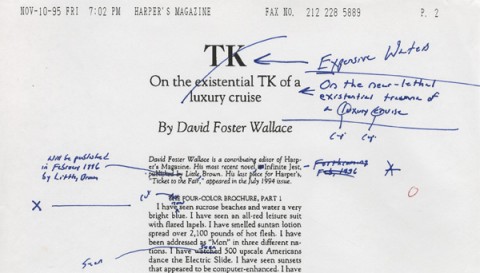 We started the week expecting to publish one David Foster Wallace post. Then, because of the 50th birthday celebration, it turned into two. And now three. We spent some time tracking down free DFW stories and essays available on the web, and they're all now listed in our collection, 800 Free eBooks for iPad, Kindle & Other Devices. But we didn't want them to escape your attention. So here they are -- 23 pieces published by David Foster Wallace between 1989 and 2011, mostly in major U.S. publications like The New Yorker, Harper's, The Atlantic, and The Paris Review. Enjoy, and don't miss our other collections of free writings by Philip K. Dick and Neil Gaiman.
"9/11: The View From the Midwest" (Rolling Stone, October 25, 2001)
"All That" (New Yorker, December 14, 2009)
"An Interval" (New Yorker, January 30, 1995)
"Asset" (New Yorker, January 30, 1995)
"Backbone" An Excerpt from The Pale King (New Yorker, March 7, 2011)
"Big Red Son" from Consider the Lobster & Other Essays
"Brief Interviews with Hideous Men" (The Paris Review, Fall 1997)
"Consider the Lobster" (Gourmet, August 2004)
"David Lynch Keeps His Head" (Premiere, 1996)
"Everything is Green" (Harpers, September 1989)
"E Unibus Pluram: Television and U.S. Fiction" (The Review of Contemporary Fiction, June 22, 1993)
"Federer as Religious Experience" (New York Times, August 20, 2006)
"Good People" (New Yorker, February 5, 2007)
"Host" (The Atlantic, April 2005)
"Incarnations of Burned Children" (Esquire, April 21, 2009)
"Laughing with Kafka" (Harper's, January 1998)
"Little Expressionless Animals" (The Paris Review, Spring 1988)
"On Life and Work" (Kenyon College Commencement address, 2005)
"Order and Flux in Northampton" Part I, Part II, Part III, Part IV(Conjunctions, 1991)
"Rabbit Resurrected" (Harper's, August 1992)
"Several Birds" (New Yorker, June 17, 1994)
"Shipping Out: On the (nearly lethal) comforts of a luxury cruise" (Harper's, January 1996)
"Tennis, trigonometry, tornadoes A Midwestern boyhood"  (Harper's, December 1991)
"Tense Present: Democracy, English, and the wars over usage" (Harper's, April 2001)
"The Awakening of My Interest in Annular Systems" (Harper's, September 1993)
"The Compliance Branch" (Harper's, February 2008)
"The Depressed Person" (Harper's, January 1998)
"The String Theory" (Esquire, July 1996)
"The Weasel, Twelve Monkeys And The Shrub" (Rolling Stone, April 2000)
"Ticket to the Fair" (Harper's, July 1994)
"Wiggle Room" (New Yorker, March 9, 2009)
Related Content:
Free Philip K. Dick: Download 13 Great Science Fiction Stories
Neil Gaiman's Free Short Stories
Read 17 Short Stories From Nobel Prize-Winning Writer Alice Munro Free Online
10 Free Stories by George Saunders, Author of Tenth of December, "The Best Book You'll Read This Year"